I love flannel, especially in the fall. I really love the combo of classic red with a striped shirt it's a little preppy but fun. I love these ripped skinny jeans from Forever 21 they are super tight but flattering. I finished the look off with a simple gold necklace and a lot of gold bangles. Check out the details and rock some fall flannel for yourself!
Shop this look...
My shirt is ancient but this one from AEO will work perfectly. Comfort is key with flannel and this one will do you just right.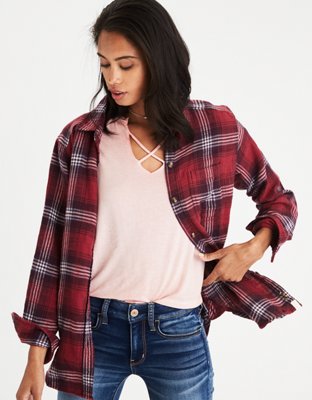 This is a staple piece that I wear so often. It's perfect for layering under a vest or a button up like I did today.
I love these jeans and they are skin tight. I usually wear a 27 but I bought these in a 29. The high waist tucked my tummy in nicely.
I have loved these shoes during the spring and summer but they worked quite nicely with this fall look. This is a classic shoes that isn't likely to go out of style any time soon.
This is a cute little necklace that works as the perfect light accessory.
This simple gold bangle is the a great accessory that doesn't over power any look. It's a great deal on Amazon.
This bracelet is great on it's own and it works well stacked.
This is one of my favorite bags. The outside color is rich but you can turn it inside out for another look.